FoMBL Working Party – 25th March 2017
Volunteers: 16 overall including Tim, Andy, Kay, Alec of the regulars.
Hello everyone, and thanks to those who could make it to the work party. We did it! We got the seed sown for the wildflower patch, one of our most ambitious projects to date. Expanding it by 130m2 was no mean feat, but thanks to the hard work of our members and the council, it's done.
The turf we removed (rather than drown it in glyphosate) has gone to patch the areas around Jawbone Walk which were trampled to mud during the renovations, and Heather even found the time to pick some litter.
The weather was beautiful, and it was lovely to see so many people put in so much work. I can't wait for the result.
Our next work party is on the 29th of April, and I hope to see you all there!
Joe Boyle
DIY FOMBL Hogmanay Work Party: 31 December 2016
After much deliberation, in the event a few oldies got together (with even one or two younger members), in the absence of the students on holiday, with both Volunteer Co-ordinators otherwise engaged. No Park Ranger was available, so neither were park tools. But ten stalwart volunteers managed to scrape together a few tools of their own and assemble at 3 Glengyle Terrace, where black bags and more tools were collected, and a huge quantity of leaves were raked, collected and bagged around the Croquet Pavilion. This is a place where the prevailing wind blows a lot of leaves and also litter, which was collected as well: and as you know we've been having gales in the last week or two. I am told that over 50 bags were filled - ready for collection by the Council van for composting. (I was busy providing elevenses for the troops, and then had to go to visit my husband in hospital.)
Feathering of tree trunks was also done, as well as pruning of shrubs, and to my delight a tree stump on the grass in front of our flat was feathered, ready for planting with flowers (if someone can gouge out the innards and supply soil).
Luckily the promised rain held off till the afternoon, so the work was accomplished in relative comfort. In the end it seems that the enthusiasm of FOMBL volunteers is unquenchable. This augurs well for future work parties, and the steady improvement and maintenance of the Meadows and Links.
This is also perhaps the moment to tell you all that finally some of the money from the Underbelly event during the Festival last August has been made available for future projects on the Meadows. Neil Roger (one of our Trustees) is in charge of our 'wish list', which includes an exercise trail, a Heritage trail (with information boards for our treasured monuments starting with the Sundial), more children's play equipment, and work on the railings.
So a very happy New Year to you all, and many thanks indeed for your support.
Heather Goodare 31.12.16
FoMBL Working Party – 25 November 2016
Volunteers: 26 including Jimmy the Ranger, some regulars, some ESHC people, and an enormous group of Evolve volunteers (10-15).

Hello everyone, and thanks to those who could make it to the work party. Our main task for the day was planting a row of Crocus and Narcissus bulbs on the bank outside Wright's Houses. Being this year's last major work party, it was also a nice rounding-off on a personal level, as planting bulbs on this strip is the reason I first got involved with FoMBL back in March. Alongside this, we had a sweep of some of the leaves by the croquet greens to give the grass a chance to breathe.
We had a solid day's planting along the bank, with some litter-picking and weeding as we went. In the end, we planted all the bulbs we had and have now got something nice to look forward to in the spring. A small offshoot of our eVOLve volunteers sorted out the leaves at the croquet green and did an excellent job. We hope to see them again as their positivity had a great impact on what can be a dull morning's work. Though we only had two jobs on and there's not too much to say about either, we had an excellent session overall, and hopefully our attendance stays as high in future.
Heather's running a small work party on the 31st of December, but the rest of us haven't the mettle stuff and have taken New Year's Eve off. We'll be back on the 28th of January, I hope to see you all there!
Joe Boyle
FoMBL Working Party - 29 October 2016
Attendees - 21

On such a beautiful, sunny Autumn day we started as a small group and decided to work together on the wildflower plot in the West Meadows. Under Sarah's watchful eye, Tammy, Joe, Aurelie and Alec planted some new seeds with help from Bob and …. clearing the patches. Sarah was kept busy advising the rest of us on what to do and identifying plants with Ann and her 2 sons. The seeds were quickly planted with all hands on deck and we finished up the morning clearing the wildflower plot of overgrown grasses, ready for the new wildflowers to sprout up. We managed to collect over 7 full bags of overgrown grass and vetch with the help of Thomas who came to assist us. While most of the group worked in the wildflower plot, Heather and Tanya (joined by Jimmy the Park Ranger and Mike) cleaned up the Helen Acquroff fountain around the base, extracting a lot of weeds and grass, which we recycled on bare patches. They then did a lot more path edging, again using the grass to make good the bare ground: result much more tidy.
Neil was happy to take on the sole job of taking down the fence and stakes for a small tree that was ready to stand on its own, along in Bruntsfield Links.
Felicity and Iva, from Wrights House joined us for a coffee break at 11.15am and into the afternoon. Thanks as always to Amanda and the team at the Pavilion Café for our £1 coffees. Coffee was made extra delightful with a big box of chocolates that Heather had kindly brought along and forced us all to finish – it didn't take too much force. With the wildflower plot replanted and cleaned up, we lost a couple of volunteers at the lunch break. Tammy, Alec and the Wrights Houses group headed to the Croquet Club to pick up a LOT of fallen leaves. As you can see by the photos, this was a big job, but we managed to have some fun with it too. While we managed to clear about 20 bags full of leaves, we run out of time to clear the entire area – a job that no doubt will be ongoing. One particular passer-by must have thought we were doing a great job, as he took several photos of us when he thought we weren't looking. Hopefully we managed to get the FoMBL logo into one or two of his shots. Heather and Tanya continued working near the Café with Jimmy and Neil and were joined by a small boy called Spiky (apparently according to his Dad named after Spike Milligan). He was very helpful in stamping on the recycled grass to make sure it was well grounded. Two little girls joined in, finding a beautiful long worm, which they made sure was rescued and put safely under the recycled grass. Their Dad was coaching junior football, so Heather gave him a leaflet and a newsletter, drawing attention to the lost football cup.
As always, we had a great time and luckily had a lovely day to spend outdoors. The next FoMBL Working Party (and likely the last one for 2016) will be on Saturday 26 November when we will be planting a couple of thousand bulbs near the Wrights Houses.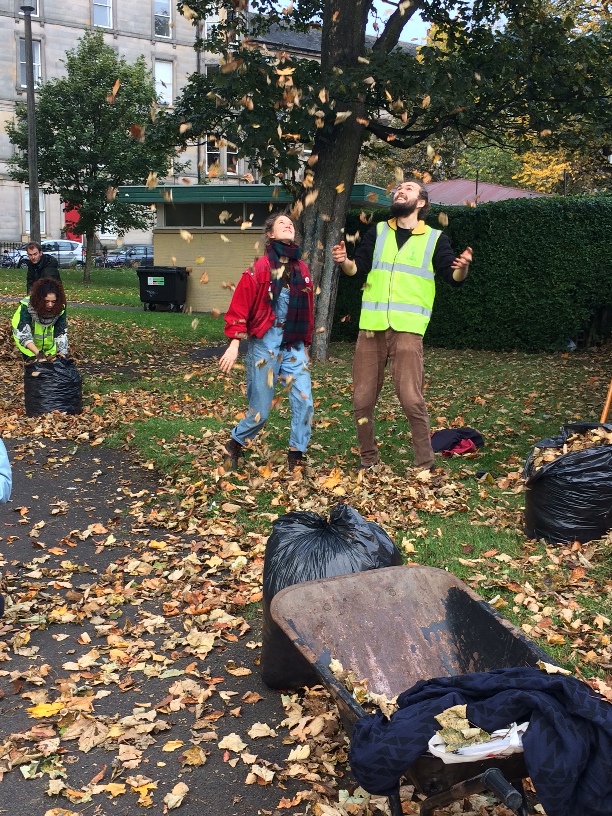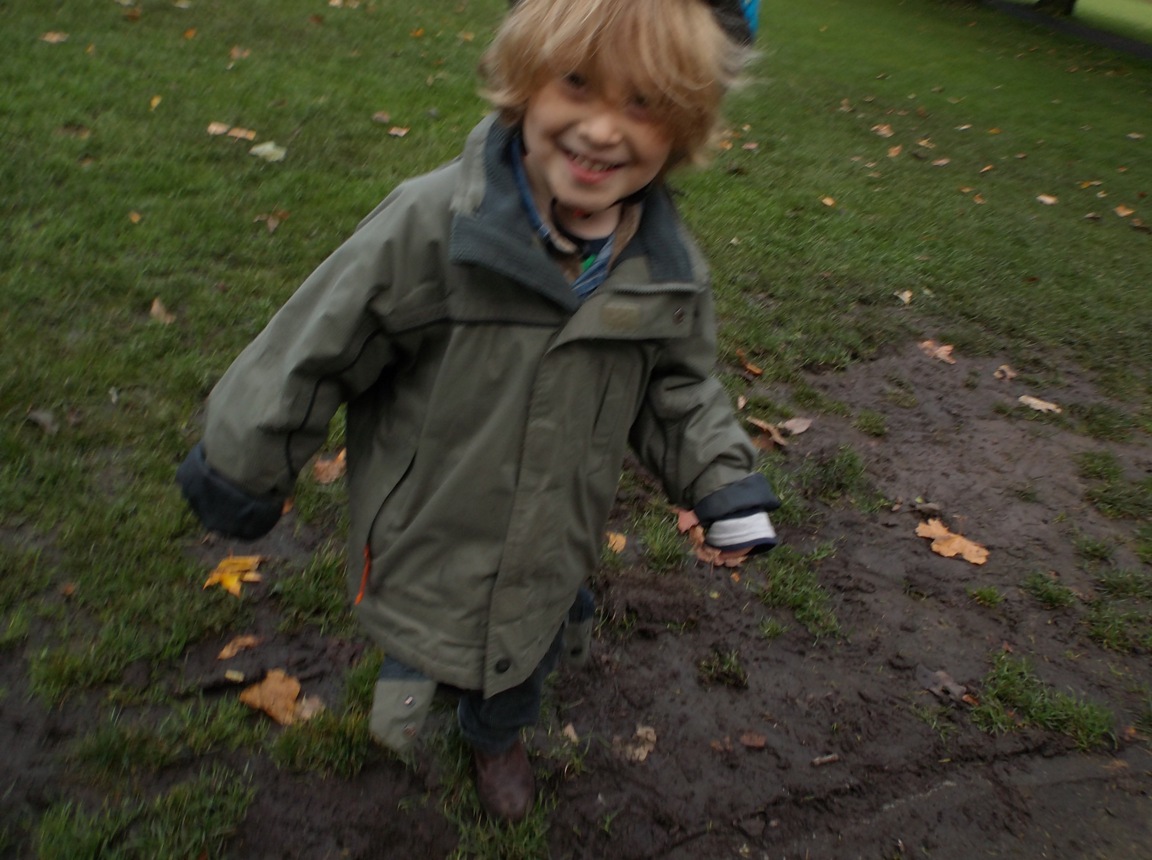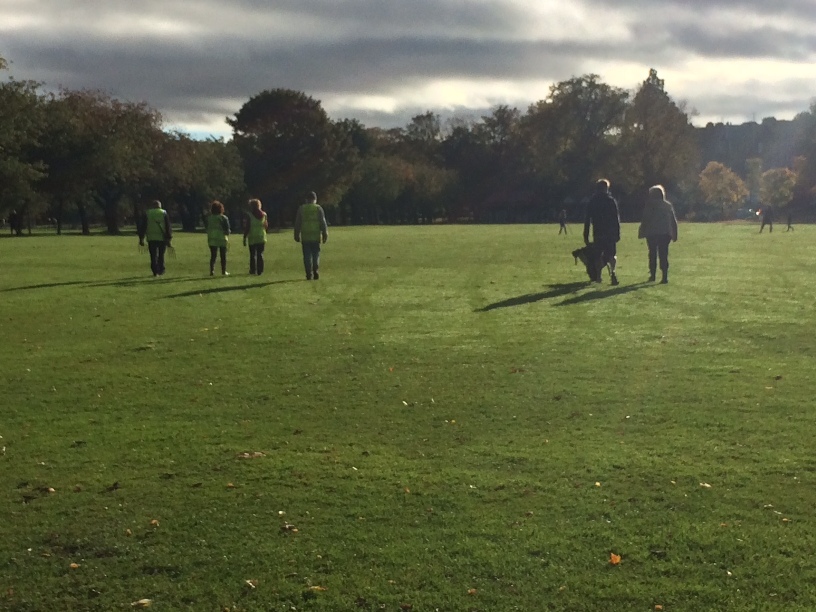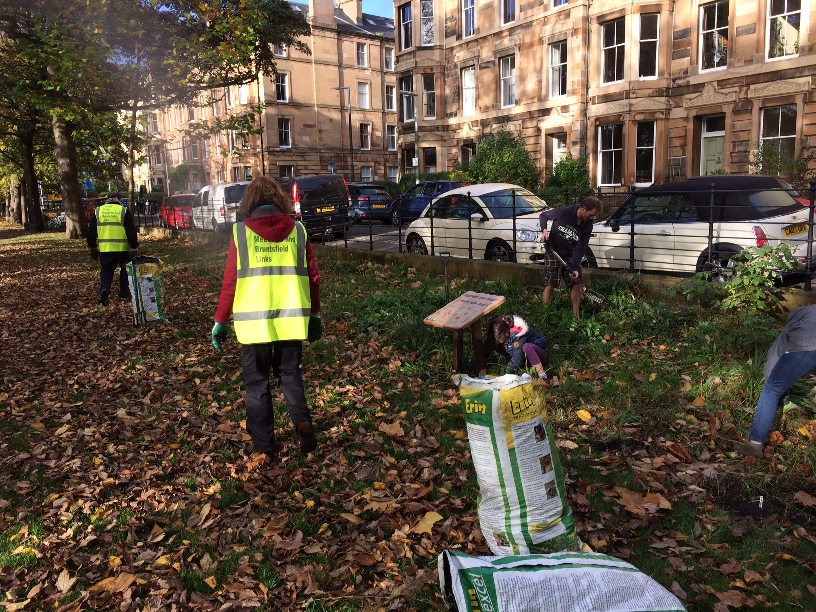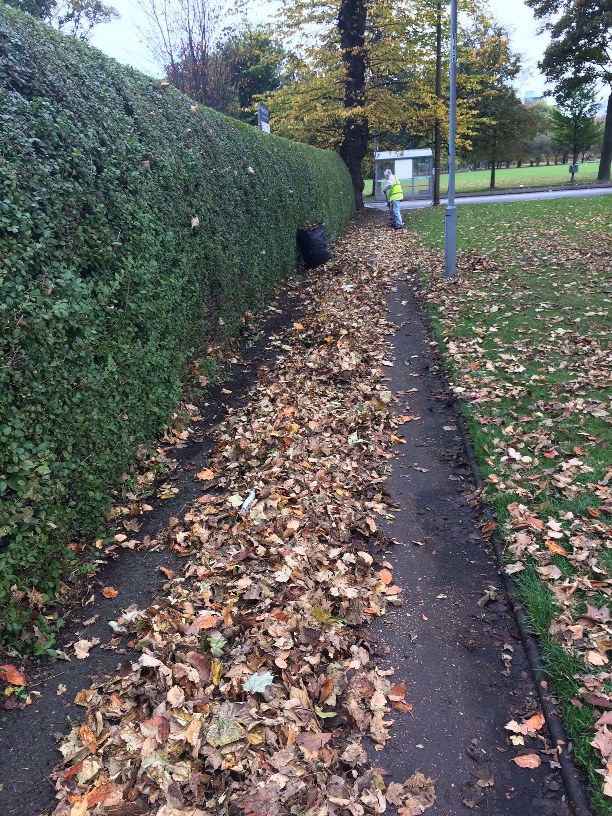 FoMBL Working Party – 24 September 2016
Volunteers: Around 25(!) including Peter the Ranger, some regulars, some ESHC people, and an enormous group of Evolve volunteers (10-15).
Hello everyone, and thanks to those who could make it to the work party. We were a little slow to start, as we were waiting for an external group before the brief for the morning. With no sign of them, we decided to get going anyway, splitting into three groups: litter-pickers, path-edgers, and wildflower-patchers. The litter-pickers were the biggest task force (we stole all the Evolve members) and made good use of the excellent bins, which found their way into our shed. We swept over to the tennis courts, and came back with bags of rubbish. Another solid day of nondescript litter-picking, though I did find an entire, unopened tin of baked beans. The path-edgers were an elite squad made up of more experienced Fomblers than I, and their steady flow of turf was evidence enough of their stellar work. This turf was used by a splinter group of the litter-pickers to cover bare patches outside the pavilion café.
Sarah was in charge of the wildflower-patchers, and described it as "great fun". This has been echoed by the volunteers themselves, and it looks like we'll be sending more volunteers over this month, and again in the spring to help plant bulbs.
In the end, we did hear from the volunteer group (Youth Zone) who were also supposed to be joining us, but they'd decided to go home, possibly to return another day.
Overall, we had an excellent session, and hopefully our attendance stays as high in future. Our next work party is on the 29th of October, and I hope to see you all there!
Here's a link for the Facebook event for the next work party.
Joe Boyle

PS from Heather: after refreshments at mid-session a small elite group of three attended to the noticeboards in North Meadow Walk that needed cleaning. One of the Perspex windows has now had its scratched surface replaced by Mike Shields with a beautiful new one: hooray!
FoMBL Working Party - 27 August 2016
Volunteers: Tammy Joe Heather Andy Derek Suzanne Jacob Connor Alec Eileen Bob Robin Peter
Hi again everyone, I am back this month after a wonderful birthday weekend last month. Again, I want to thank everyone for helping out last month while I was off. This month we got some beautiful weather which made the work all that much better. Everyone arrived quite promptly at 10am to get to work. I decided to focus the work on the East and West Meadows as these two areas have been a bit neglected and the litter was piled deep; remnants from the Festival I can only assume. Litter picking took up most of the time with me in the West Meadows with help from Derek and Joe while they trimmed up some trees along Melville Drive. In the East Meadows, Eileen, Suzanne, Jacob and Connor were busy picking up litter; though no one got all the way to the tennis courts as there was so much to pick up.
Heather and Robin stayed at the Pavilion with the intention to finish the seeding from last month, though got stuck into some edging instead; utilising the scraps to do some patching. I believe that Bob did some work in this area also before leaving at coffee time. Alec and Andy did a fantastic job clearing the weeds that were growing fast and thick around the croquet club. Again, this took quite some time and the edging didn't get started until after the coffee break. The area looked so much cleaner and neater, as I had also done a litter pick near the croquet club and playground. While picking up litter in the West Meadows, it was a nice surprise to hear a "Thank you for taking that rubbish" from a runner-by. While I didn't get a chance to chat to him, it is good to know that the work we do does go noticed. I think we can sometimes struggle to see any results and feel that we never really get too far.
At 11.15am, we sat for our coffee break at the Pavilion Café as we always do. Eileen, Robin and Bob had to leave now, and the rest of us went to finish some tasks. Andy and Alec cleaned their weed scraps and did some extra edging around the croquet club while Heather utilised Jacob and Connor to do the seeding at the Pavilion. Derek, Joe and I ventured to the East Meadows to try and get a bit closer with the litter eradication and were kept busy right up until 12.30pm when we stopped for the day.
We were lucky to have Park Ranger, Peter with us for the day offering assistance and support. Our FoMBL equipment is now secure in the shed that Andy provided, and we now have it all locked up tight.
Our next working party will be Saturday 24th September. Next month we will require some volunteers to help Sarah in the Wildflower plot which will be a nice change. Don't forget your gloves and £1 for coffee! See you then!
FOMBL work party 30.7.16
Modest in number yet determined in will, the FOMBL work party brigade assembled at the Pavilion Café at 10:00, Saturday 30th of July for a good morning's FOMBLing. Armed with little more than a couple of spades and a wheelbarrow, Alec and Yusef fought hard to win back a section of Leamington Walk from the ever encroaching turf, reclaiming it for public use. The displaced turf was rehomed in a more suitable location, making an unsightly mud patch near the Pavilion green once more.
Heather demonstrated some Olympic scrubbing skills and transformed two signs – a "Bruntsfield Links" street sign and a "Play Around Edinburgh" sign by a playpark – from barely visible to sparkling masterpieces. Bob had the task of weeding out the chessboard on Bruntsfield Links. After carefully analysing the positions of the weeds, he made some bold opening moves and put himself in an advantageous position just before elevenses. Unfortunately the weeds were taking a rather long time to decide their next move, and the match was adjourned, until Bob returned in the afternoon to crush his vegetative opponents.
Meanwhile, M.A. and Derek helped to ensure the Meadows stay fresh into the future by sowing grass seed on bare patches near the Pavilion Café. See if you can spot the patches in the coming weeks. Clare took up the hallowed role of litter picker – traversing the great plains of the Meadows, keen of eye and swift on the draw, she rained sweet justice down on litter of all sorts, making our park a cleaner, nicer place for everyone.
Andy spent the morning wrestling with a plastic self-assemble storage shed. Things were looking pretty grim for a while, and in the end it was close, but, ultimately, man triumphed over shed. This shed will hold all of FOMBL's lighter tools, while Peter Davidson, South Edinburgh Park Ranger, has kindly donated us a wheelie bin for the heavier ones. Hurrah for storage! Peter also did some fine work on the Links, putting wood chippings down around some trees to combat some perseverant weeds.
Martin started out trying to locate a water supply to enable the grass seeders to water their plantings. He found an outside tap on the rear (south) side of the pavilion. It was obstructed by piled up junk and by overgrowing vegetation. He restacked the junk (more work here for a future work party) and cut back the vegetation. He then headed towards the east end of the Meadows, and came back past the tennis court hedge, litter picking as he went.
At around 11:30 we adjourned for a well-earned cup of tea/coffee and some scrumptious banana cake prepared by the lovely Eleanor of Edinburgh Student Housing Cooperative. All in all, a successful day caring for our local patch, and rewarding for all involved.
Yusef Samari (standing in for Tammy Rudduck)
FoMBL WORKING PARTY - 25 June 2016
13 volunteers
Saturday 25 June turned out to be another great working party, following some rain fall on Friday night. We had 13 volunteers - some regulars and some new faces.
We got to work straight away. While Heather and Kay spent time tending to the panoramic notice boards and picking up litter - a job that is always needed- David, Tanya and Eileen did a great job edging paths along Boroughloch Walk. As you can see from the picture attached, it looks much better.
As like last month, Bob did some tree feathering near Leven Terrace while Martin worked hard on a large tree on Leamington Walk. Andy is still working his way through the large pile of earth in East Meadows and with help from M.A managed to fill lots of holes throughout the Meadows.
Alec, Derek and I spent the morning pulling weeds and overgrown grass from the central bed at the Bruntsfield Hotel end of Leamington Walk. Anyone who walks that way will most likely know how bad it was getting. We managed to fill two bags of roots, weeds and clippings. This was work that Eileen and I started last month. Derek finished at coffee break, and Alec and I continued. The Park Rangers will be barking the area sometime soon to avoid the overgrowth again. Robin also popped along to help out for a short while with litter picking.
After a well earned coffee break and a chat, we got back to work. Derek, Martin and Heather left us to it and we all continued on our tasks.
Our next FoMBL Working Party will be held on Saturday 30 July. As always, all members are welcome and any non-members are encouraged to come along and see what we do. Meeting place remains at the Pavilion Cafe at 10am, where we are lucky to receive £1 coffee on our break. I hope to see many of you next month!
Tammy Rudduck
FoMBL Work Party – 28/05/16
This morning I formally handed over organisation of work parties to Tammy Rudduck, who nobly gave up her time on a Saturday when she was actually in the middle of moving house! Commiserations and warm thanks to her partner, who no doubt bore the brunt of all this. Tammy now holds the keys to the Pavilion shed. She gave out the necessary tools and organised the work.
Ann Leith and I worked on the two noticeboards at the top of Jawbone Walk: the locked board had a lot of graffiti on the back, which we managed to remove, using the special fluid given to me a while ago by Mike Shields. I have now left it stored in the Council shed behind the Pavilion, for future reference. It did the job well, in the end, after quite a struggle! We also worked on the front, and on the information board on the path opposite. Ann then had to go.
After the break Suzanne Mackenzie and her two boys, Jacob and Connor and another young friend Connell joined me in cleaning the information board at the 'crossroads' of Middle Meadow Walk and North Meadow Walk. The boys also picked up litter and handed out FoMBL leaflets to passers-by, most efficiently while Suzanne was finding somewhere to rinse our cloths the boys took turns in reading out the now clean (and legible) information board, with its history of the Meadows. They were intrigued to discover that it had previously been a loch.
We then went back to the Pavilion, and did some more work on the noticeboards there (the boys were perfectionists: Ann and I hadn't been efficient enough!). When they were finally satisfied, we adjourned to the Helen Acquroff Drinking Fountain nearby (see the last newsletter), and though we didn't have the proper tools, somehow managed to remove a lot of weeds that were clogging up the surrounding paving. Ideally this should be done professionally and re-pointed. But in the meantime, the boys found that litter-pickers actually made good tools for cleaning out the gaps between the paving slabs. Many thanks indeed to them for all their hard work.
HG 29.05.16
As well as the great work accomplished by Heather, Ann, Suzanne and the boys, we had two new volunteers today, David and Tanya (who are now members), who assisted Bob in feathering trees over at Leven Terrace and picking up sticks. Derek also helped with this feathering in the morning. Irene and I tended to some garden beds on Bruntsfield Links in the morning and attempted to uproot some weeds and sycamores in the central garden bed at the top of Bruntsfield Links. It has been quite overgrown for some time and will require some more work yet, before it looks presentable again. Andy and Yusef did an amazing job relocating soil from the big pile in East Meadows and filling some gaps near the Pavilion Café. This work was required for the upcoming Meadows Festival this weekend.
We all enjoyed a lovely break together with a cheap cup of coffee at the Pavilion Café, with thanks to Amanda, and finished up at 12.30pm. Many thanks to all our volunteers and we hope to see everyone again next month – Saturday 25 June at 10am. We meet at the Pavilion Café. Everyone is welcome!