Answers to the Mural Quiz
Mural panels are refered to by number, number 1 on the left to number 5 on the right as on the previous page.
Q. Can you find the Shetland knitter?
A. Here she is on Panel 4 :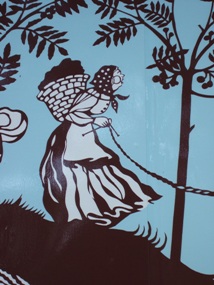 Q. Which trees and birds are shown on the mural?
A. Trees:
| | | |
| --- | --- | --- |
| willow (Panel 3) | rowan (Panel 4) | horse chestnut (Panel 5) |
| | | |
Birds:
| | | | | |
| --- | --- | --- | --- | --- |
| | | | | |
| Seagull (Panel 2) | Swallow (Panel 3) | Crow (Panel 4) | Magpie (Panel 5) | Owl (Panel 5) |